Keep your plants happy!
Watering app to remember to water plants
Happy Plant is a watering app that reminds you to water your green buddies so they can keep living healthy. Everyone forgets to water their plants…we're all guilty. But with a simple notification, you can remind yourself and keep your green buddies for a long time. Get your plants drunk on water!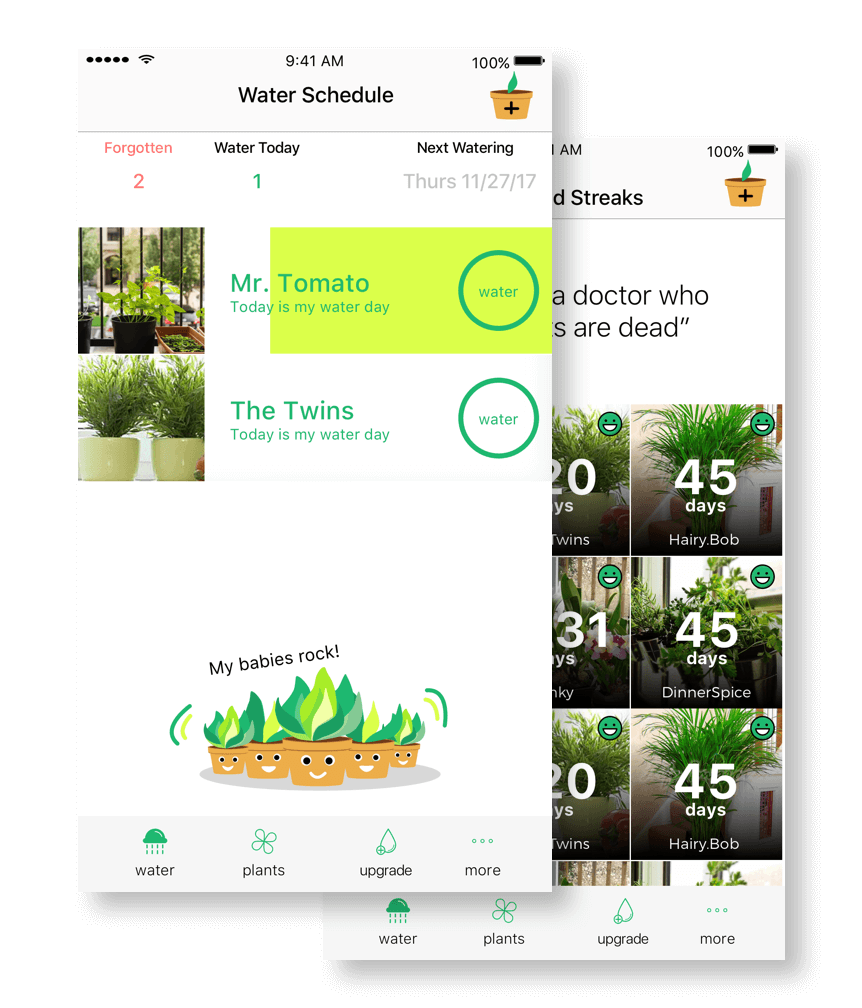 Happy Plant Featured in 2018 Apple's "Start the new year organized" apps in the App Store!! (read more)
OMG …
I actually remembered to water my plants.

Never forget to water your plants again!
…well, at least that's the idea.

Awesome app
I have a lot of plants and two housemates. We're not always at home, but this app makes sure we water to plants at the right time. Thanks!

LOVE this app!! ??
I just recently started growing a little plant of my own and this app has just been a life saver! Firstly, I love how I can take a picture of my plant and give it a name (also really love how the app refers to my plants as "my green babies"). Secondly, it does what it says it does and reminds me when to water my plants. From all the watering-plant-reminder apps I've seen and used, this by far has been my favorite one!!

high hopes for this !!!
Just downloaded the app and it doesn't seem buggy like the waterbug one. The design is nice and sleek but now let's see if it's efficient !!
Happy Plant Makes Watering Fun!
Join thousands of others who forget to water their plants!
What started off as a fun learning exercise to learn how to develop iOS apps has become plants savers around the world. Thousands of people are using Happy Plant to keep plants happy and healthy. Happy Plant's Watering Features to turn a boring activity into a fun task:
Name Your Baby – name your babies cool!
Create a unique reminder to water each plant! – Daily, over several days, choose your watering schedule as you wish.
Water streaks! – We turned watering into a little personal game. Green is good. Red is "helpppp, I need water!"
Time-lapse video – Take pictures of your plants over time and watch them grow!
Water Notifications – Receive water plant reminders on your notification screen in the morning or evening
Store up to 3 plants for free. Upgrade to premium for unlimited plants.